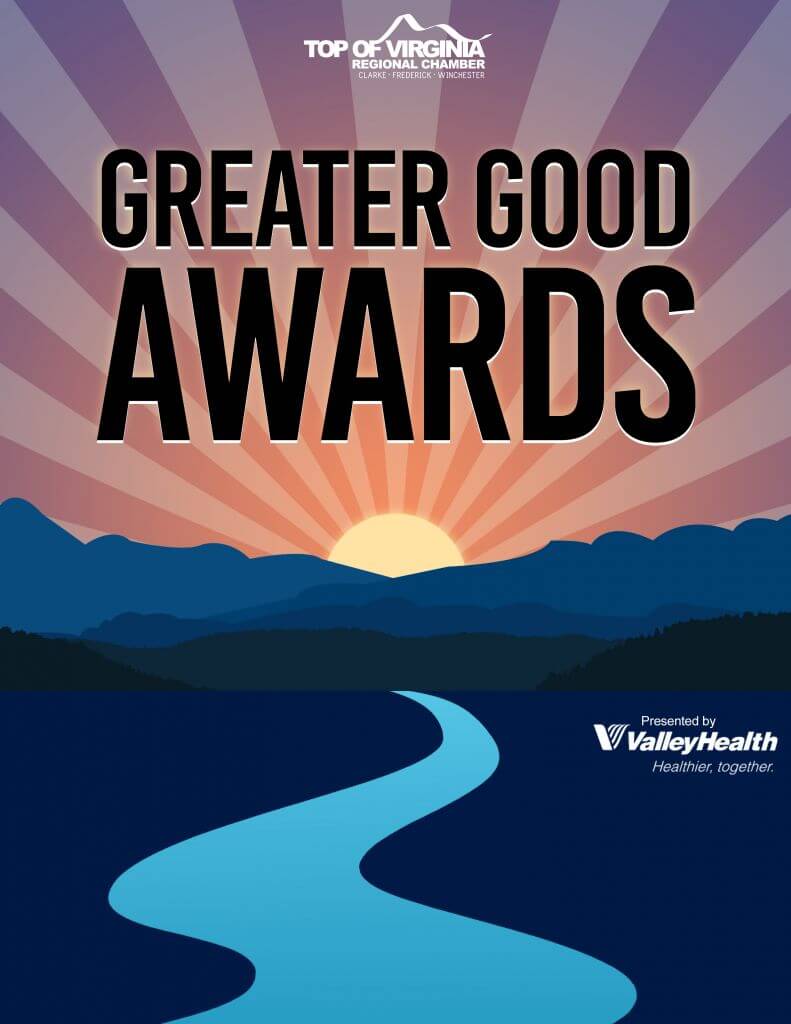 Katrina Smith - RE/MAX Synergy | Entrepreneur of the Year
Shaffer's Barbecue and Market  | Small Business of the Year
Valley Proteins, Inc. | Large Business of the Year
David Kent | Emerging Leader
Winchester Rescue Mission | Non-Profit of the Year
Sheriff Lenny Millholland | Citizen of the Year
Barry Lee | Lifetime Community Impact
The purpose of the "Greater Good Awards" is to celebrate outstanding individuals and businesses for the contributions they make to the quality of life and economic stability of our region through genuine community commitment, dedication to excellence, and ethical and creative business practices.
The criteria by which the nominees will be judged are community involvement, ethics and character, leadership, creativity, economic impact, and growth.  Each organization should have been in business in this community for a minimum of 3 years and be a member of the Top of Virginia Regional Chamber.  Each individual must have resided in the Top of Virginia region for a minimum of three years and be at least 21 years of age.
Award winners are chosen by an impartial committee of past Chamber board chairs based on the criteria indicated.
Join Top of Virginia Regional Chamber members at the annual Greater Good Awards, presented by Valley Health to celebrate the local business community.  We plan to recognize the award nominees in high style as we announce the winners of the Hollie Awards named for the first Chamber president, Hollie B. McCormac.
Highlights of the evening will include a networking cocktail hour, dinner, silent auction, 50/50 raffle, and presentation of the Greater Good Awards.
Click here to donate an item for the silent auction.
Awards include Large Business of the Year, Small Business of the Year, Entrepreneur of the Year, Non-profit of the Year, Citizen of the Year, Emerging Leader Award, James R. Wilkins Sr. Legacy Award, and Lifetime Community Impact Award
Pre-registration for this event is required.
Tickets will not be issued; you will receive an email upon registration which will serve as confirmation of your reservation. Cancellations must be made by Wednesday, March 10, 2022, to avoid charges.
Please notify the Chamber no later than Friday, March 4, 2022, of any dietary restrictions. Special requests on the night of the event cannot be accommodated.
Shenandoah Valley Golf Club
134 Golf Club Circle
Front Royal, VA 22630
Thursday, March 24, 2022
5:00 - doors open, cocktails, silent auction
6:00 - dinner is served
7:00 - program begins
7:30 - bar and auction close
8:30 - event concludes
EVENT PRICING
Through Friday, March 11, 2022
Chamber Members | $65
Non-members | $75
After Friday, March 11, 2022
Chamber members | $75
Non-members | $85





James R. Wilkins Sr. Legacy Sponsor
2021 Greater Good Award Winners:
Tom Stamulis True North Group | Entrepreneur of the Year
Kimberly's  | Small Business of the Year
YHB | Large Business of the Year
Greg Vossler | Emerging Leader
United Way of the Northern Shenandoah Valley/Valley Assistance Network | Non-Profit of the Year
Dr. Nicolas Restrepo | Citizen of the Year