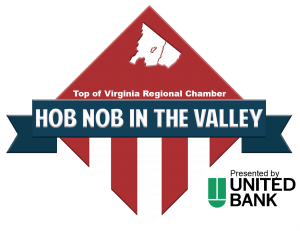 Top of Virginia Regional Chamber announces the return of Hob Nob in the Valley presented by United Bank
On Thursday, August 24, 2023, this over twenty-year-old nonpartisan gathering will once again bring together elected officials, current public office candidates, government leaders, and the local business community for a unique occasion of networking and socializing. The event will take place in the Winchester Regional Airport hangar at 509 Airport Road, Winchester, VA 22602.
One of the purposes of this event is to build and maintain strong synergy between local government and the business community, leading to proactive engagement. "The Hob Nob is a great way to rub elbows with people that you might not get to interact with daily but are affecting our way of life. We have removed the straw poll to regain the event's value to connect legislators and our business community in a way that opens strong lines of communication now and for many years to come.," stated TVRC CEO Cynthia Schneider. "We had to go back to the drawing board after seeing previous versions of the event feel more dividing than unifying. Voters will always find themselves split on various issues that may arise and Hob Nob in the Valley creates this space that we can come together to meet current and future legislators who are impacting these decisions over a time of food and fellowship.
Current elected officials as well as upcoming candidates are invited to attend Hob Nob in the Valley. Invitations have been sent to all current representatives at all levels of our region as well as candidates for those positions.
This year's Hob Nob in the Valley theme will focus on Americana traditions.
The ticket price includes dinner catered by Shenandoah Valley Westminster-Canterbury Catering and Fox Urban Farms, dessert by Cakes by Ashton, music, voter registration opportunities, and access to local leaders. Online registrations are open at www.regionalchamber.biz. 
Complimentary Exhibit tables are available for government agencies, political parties, candidates, etc. Please call 540-662-4118 x16 to reserve your table.
Vendor space is available for purchase. Please call 540-662-4118 x16 to reserve your table.
Adult beverages will be available for purchase from The Ivy Chest Tap Truck.
Thank you Sponsors!
United Bank
Carmeuse
iHeart Media
Jackson-West Consulting
Correll Law Firm PC
Johnny Blue
Fox Urban Farms
The Ivy Chest Floral and Decor